Endtrospective is out now on your preferred streaming platform and online stores. Listen / purchase here.
Fresh off the release of The Mountain Will Fall, DJ Shadow just announced his Endtroducing 20th Anniversary ENDTROSPECTIVE Edition, out October 28, 2016. This deluxe CD/LP collection features the original album as well as demos, alternate takes, live versions, and exclusive remixes from Hudson Mohawke, Clams Casino, Salva, Teklife, and more.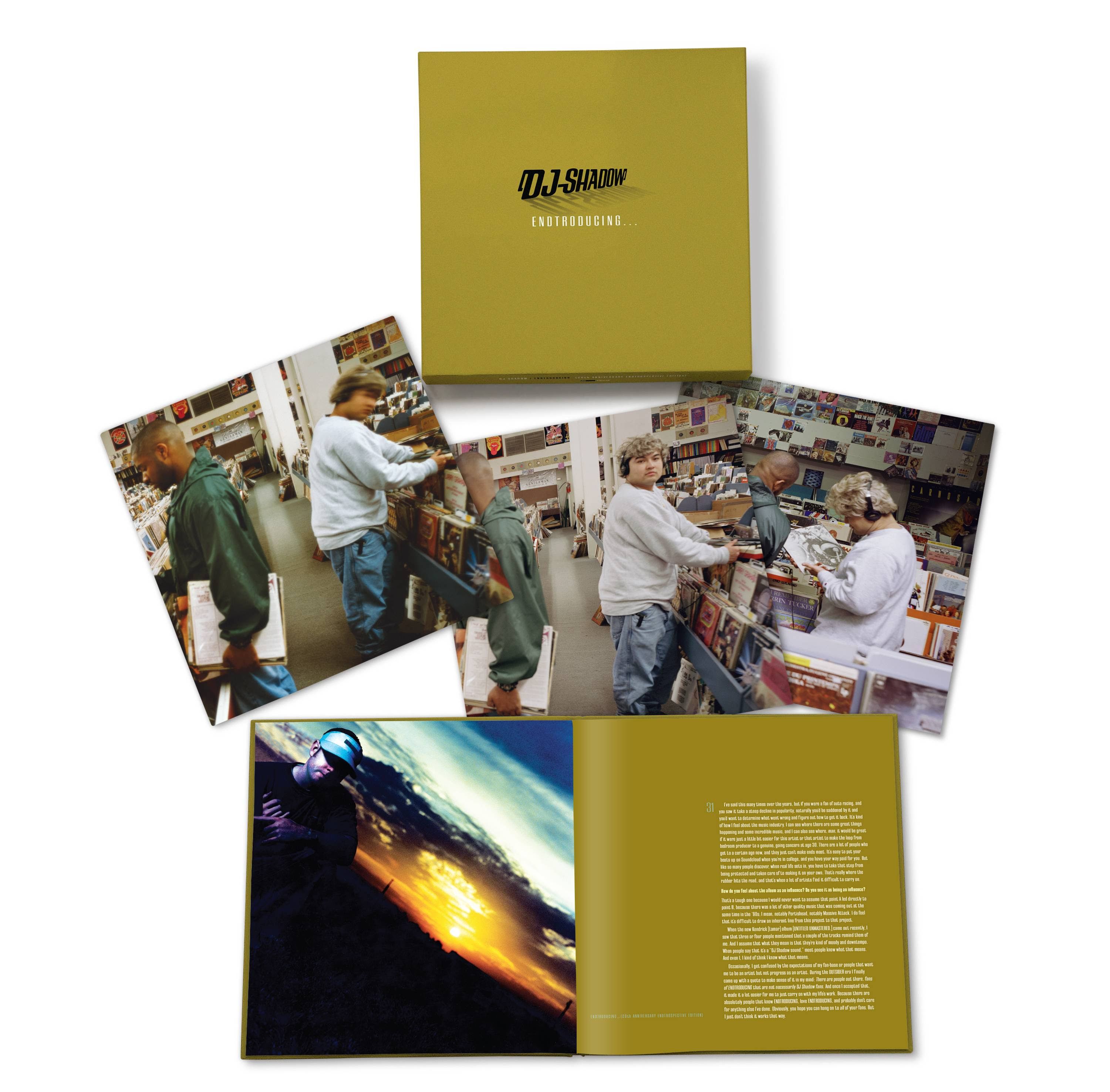 Pre-order the Endtroducing 20th Anniversary ENDTROSPECTIVE Edition on CD/vinyl now on DJShadow.com here.
The pre-order also includes a 12″ vinyl of "Stem / Long Stem" (Clams Casino Remix), which you can hear now on Vevo.
The CD/LP package will also include expanded liner notes from an interview conducted by the author of DJ Shadow's Endtroducing… (33 1/3), Eliot Wilder, and never-before-released photographs by B+ and Phil Knott.
The 12 remixes, produced by some of electronic music's contemporary groundbreaking artists, will also be available as a standalone digital album.
From DJ Shadow on the ENDTROSPECTIVE:
"As a music lover, my favorite records always have some hallmarks of an era, but also sound as if they could have been made almost any time within a 20 year time span. I've always felt that as someone who buys a lot of records and sits there and studies them and kind of vibes off them, I also feel like once you put something out into the world, it can be discovered later. That happened so much with Endtroducing – 10 or 15 years down the road, people were discovering it."
Tracklist:
THE ALBUM
1. Best Foot Forward
2. Building Steam With A Grain Of Salt
3. The Number Song
4. Changeling
**Transmission 1
5. What Does Your Soul Look Like Part 4
6. Untitled
7. Stem / Long Stem
**Transmission 2
8. Mutual Slump
9. Organ Donor
10. Why Hip Hop Sucks in '96
11. Midnight In A Perfect World
12. Napalm Brain / Scatter Brain
13. What Does Your Soul Look Like Part 1 – Blue Sky Revisit
**Transmission 3
'EXCESSIVE EPHEMERA'
1. Best Foot Forward – Alternate Version
2. Building Steam With A Grain Of Salt – Alternate Take Without Overdubs
3. The Number Song – Cut Chemist Party Mix
4. Changeling – Original Demo Excerpt
5. Stem – Cops 'N' Robbers Mix
6. Soup
7. Red Bus Needs To Leave!
8. Mutual Slump – Alternate Take Without Overdubs
9. Organ Donor –Extended Overhaul
10. Why Hip Hop Sucks in '96 – Alternate Take
11. Midnight In A Perfect World – Gab Mix
12. Napalm Brain – Original Demo Beat
13. What Does Your Soul Look Like – Peshay Remix
14. DJ Shadow Live In Oxford, England, Oct. 30, 1997
'ENDTRODUCING RE-EMAGINED'
1. Best Foot Forward – Teeko Remix
2. Building Steam With A Grain Of Salt – Salva Remix
3. The Number Song – Lee Bannon Remix
4. Transmissions – Kuedo Remix
5. Changeling II – Adrian Younge Remix
6. What Does Your Soul Look Like Part 4 – DJ Spinn Teklife Remix
7. Stem / Long Stem – Clams Casino Remix
8. Mutual Slump – Daedelus Remix
9. Organ Donor – UZ Remix
10. Midnight In A Perfect World – Hudson Mohawke Remix
11. What Does Your Soul Look Like Part 1 – Prince Paul Remix
12. Building Steam With A Grain Of Salt – Bondax & Karma Kid Remix